Membership with this site is totally Free! Upgraded memberships are available Here!

Affiliate Pages paying $0.25cpm !!
Paid to Promote paying $0.25cpm for Free Members
Upgraded Members paying $0.65cpm
Upgraded ShareHolder Members paying $0.65cpm
And a 5,000 Points CPM PTP for all members!
15% Referral commisions
$1 Payouts via:
Skrill, Serve, Wise, Google Pay, Amazon Gift Cards
You MUST read and follow the terms of this site!!

Get Paid for Visiting our advertisers sites. You choose your favorite topics of interest and we'll do the rest. You will have the option to receive paid e-mail in your e-mail account or you can choose to have your mail sent here to your personal in-box.
This is not a MLM, Matrix, Ponzi or Surfing program. It is a paid per action site only.

In the members only area, you will find several ways to earn. We offer e-mail and paid to click ads. We have a list of offers which are the best products and opportunities out there on the web today. Signing up for our offers earns you some cash too.

Refer your friends and family to join using your personal referral link and you will earn 15% of any cash they generate for themselves.

Inactive members deleted every 45 days.
Payout is $1.00 for all members

Join Now
Do you want to advertise with Catmails? Purrrfect! Now I won't brag as we are not the largest site out there. What we are is a close-knit group of fun-loving people eager to receive your ads. So if what you want is 1000 people to click and delete your ad, then we are not the site for you. But if you want a few hundred people to seriously consider your offer, then we are just what you need. The service is friendly and reliable and that is a GUARANTEE!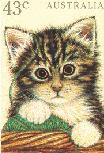 ADVERTISE WITH CATMAILS!
Adertise Here